Please note this.
The way I write Mah Jongg is based on Babcock: two single words with initials and a double g. However, I disregard his hyphen.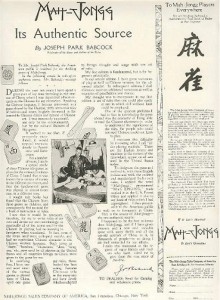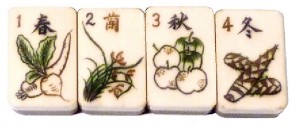 Outside and inside.
Buyers are more attracted by a handsome exterior than the content of a box. This is unwise. Tiles also have to comply with certain requirements. Like what is the quality of the bone and bamboo? Is the bone not too thin? Is the fitting of the dovetails all right? What about the craftsmanship of the engraving?
Many early sets are no longer in their original state. Antique dealers and curiosity shops are known for mingling boxes, tiles, counters and the lot. The Chinese dice and wind disks usually are missing.
As are those pretty cricket boxes and bone or horn Ming cylinders. Instruction manuals, often the only clue to the age of a set, are frequently added later and of little use. Sometimes trays are too large for the tiles they are holding. That however does not have to indicate swapping. After all, at the time, boxes and tiles were made in different villages.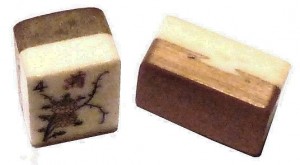 It is good to realize that the mingling of boxes, tiles, counters et cetera is of all times and has happened with any kind of Chinese or Western Mah Jongg set.