There are quite a number of different kind of racks. Some only offer space for closed tiles. Others have room for both closed and open tiles. There are also racks with compartments for counters. Sometimes covered with a hinged lid. Sometimes without a cover. The shown cross-cuts give a small selection of the diversity of racks.
There are even racks, but unfortunately not in my collection, made like a Chinese puzzle. The section Exceptional includes an all-in-one set of 4 racks with storing space for tiles.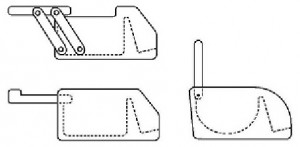 The used materials vary a lot. Most racks are made of wood. Painted or lacquered. Quite often though, the wood is combined with celluloid, plastic or metal dividers. There are also plastic racks but those are modern.
Several racks have pre-glued strips with score tables pasted on. Sometimes, a collector's delight, these strips are still unused
Because most Mah Jongg sets came without racks they were separately available. Many, mainly Western sets in my collection have racks made of wood, tin or cardboard, included in their boxes.